Services
Graphic and Sign Installations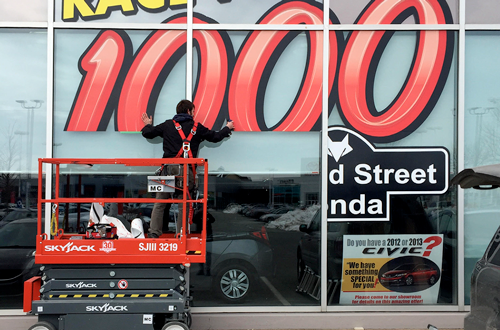 That Right, not only do we produce your graphics but we can install them for you aswell. We can do a wide range of installs ranging from vinyl window graphics to aluminum sign boxes and lighting. No matter the size of the job we will think of a plan which best suits the conditions in order to safely and effective handle the task. We are Insured and are certified in WHMIS, Fall Arrest and Aerial Platform Training so not only are we covered but you are aswell. Also we produced and we can recommend the best action plan for install. We will provide any and all tools for the job and we work with you every step of the way. If you have comments or questions during the installation process we would be glad to advise.
Large Format Print
Open the doors to possibility. Large format is core when it comes to media and advertising for your business. Cost effective solutions exist to transform your blank window into a message designed to attract the eye of a passer-by. Create a stunning floor graphic that customers will walk over and you will get noticed. Wrap your car completely or do partial coverage so that when your stuck in traffic your advertising. Print large family photos or canvas prints for your oversized frames. Build a media wall for photo-shoots. Create menuboards for restaurant. Transform your business to a new theme or market a promotion. Stickers for your bumper, fridge magnets, backlit signs, sporting event and sponsorship banners, parade floats or even just something special for a loved one. The ideas endless, let me hear yours!
CNC Machining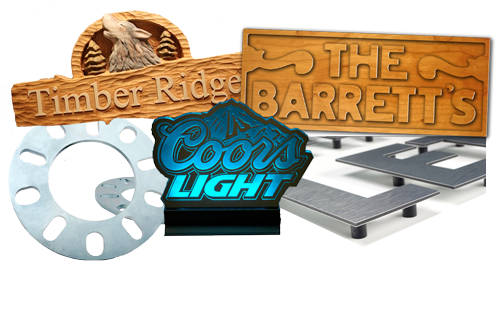 CNC machining has so many possibilities I just couldn't resist when adding it to the shop. It can create bases for signage such as wood, acrylic, aluminum, forming foam and more. Want a custom sign for a gift. Do you want 3-D letters for your business, Maybe cutting wood pieces for a train set, or creating prototypes for a line of products you wish to sell yourself. For small cut projects to large production runs the CNC is made for all of your needs. Common uses would be cutting out your logo in 3-D space. Engraving text in a piece of material. Making parts for a large scale fabrication. Sign making. Let me know if there is anything I can make for you.
Vinyl Signage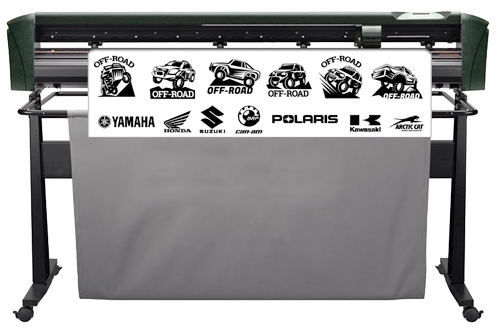 If you want something that can be cost effective in getting a message out there for a short time period or something that will last many years you can consider a range of vinyls. Your basic calendared vinyls may be good if you have a flat surface that you want to apply to that your only interested if they last for a short time. ie: sporting events, marathons, grocery stores, mainly indoor projects. Cast vinyls are formed differently and have different grades of stretch and conformability. With a cast vinyl you can do the same activities as calendared but your vinyl will last alot long. ie: vehicle or boat lettering, accent pieces, store fronts, exterior projects. Then there are premium cast vinyls where you will be able to stretch over curved edges, do a job that goes over trailer rivets, change the colour of your car body panels, decorate your sports team helmet and many more complex style jobs, good inside or out.
Graphic Design
Your design work is in our hands. We will work with you whether your established or just starting out. From logo design, pre-vinyl renderings and mock-ups of you business, brochures, business cards and anything else thats digital.